Do you get home from work or stop at the supermarket on the way home and think "what will I cook for tea tonight?"
Do you rush around in the morning thinking "I just don't have time to organise a healthy breakfast?  Coffee (or worse, some processed breakfast cereal) will have to do"
What about lunches?  You didn't have time to pack a healthy lunch before you headed to work, school or wherever you're going today.  So now you're stuck trying to make the 'best' choice from a load of unhealthy choices available at the canteen, cafe or take away shop.
And as for snacks, well.  You're just grabbing whatever is easy.  And often, you're starving and 'easy' becomes absolutely anything at all, because you skipped breakfast or lunch for the above reasons and you are starving!
You may have even said this about yourself or your children; "well I had to have something, it was better than nothing"!
Often times, 'something' is NOT better than 'nothing'.  What IS better than nothing, is something healthy, yummy and satisfying.
I've always said that the key to success is to be organised and prepared.  Winging it just does not work.  You know this because one of the most common things you tell me is that you just don't have time to cook healthy food.  That you don't have time in the mornings to get  a healthy breakfast, that you can't buy healthy lunches easily and that you don't have time for complicated recipes at tea time.
And don't forget to check out my recent post QUICK TO PREPARE MEALS AND SNACKS which also lists heaps of meals, snacks and other ways you can get organised on the weekend to prepare for the week ahead as well.
So here's my latest list of ideas.  Seriously, these work, so use them. No more "I don't have time!"
1. The Night Before Chia Breakfast Bowl
This one is  simple way to have breakfast ready when you get up the next morning.
Makes 1 serve
2 tablespoons of chia seeds
1/4 teaspoon vanilla extract
1 vanilla protein supplement serve mixed with about 2/3 cup water (if you prefer, you could use coconut or almond milk but this will increase the fat and calorie content substantially.
1 small banana – mashed – optional but gives it a lovely sweet taste (and adds those High Energy Carbs)
Cinnamon and or nutmeg to taste
This is so simple.  Just pop everything in to a bowl, mix, cover with glad wrap and pop in the fridge overnight.  If you forget, you can also get up early and do this, leaving it for 30-45 minutes to soak.  Its much better overnight as it really thickens up well.
If its too thick, add a little water to loosen and mix well.
You can make multiple serves at once by doubling, tripling etc
Made as per above, it includes 1 protein serve, 1 high-energy carb serve and a fat serve too. So allow for this fat serve as one of your 2-3 daily serves.  If you don't use a protein supplement as per the recipe, remember to make up for it by having an extra protein serve of some sort either with this meal or at another meal or snack through the day.
 
2.  Boil Eggs In Advance
Hard boiled eggs are a super convenient protein source if you do some ahead and have them ready to go in your fridge.  I've mentioned this tip lots of times, but it really is so easy and hard boiled eggs are a great go-to option as a protein source that your whole family will love.
I'll often grab one or two, a piece of fruit and a handful of nuts as an 'on the go' snack on my way out the door.
Here's how to hard boil them successfully. I do a dozen at a time
Start with room temperature eggs and cold water to help prevent cracking
Just cover the eggs with the water in a saucepan and bring to the boil quickly.
Turn off the heat and let the eggs sit in the hot water for about 10 mins
Run them under cold water and peel straight away
Cool them as quickly as you can once they're cooked because they're harder to peel if they cool slowly.
Store in an airtight container in the fridge
3.  Use Frozen Vegetables
There are some great vegetable mixes available in the freezer section of your supermarket.  They chopped and ready to go.  Simple pop them in the microwave or steam them in a pot on the stove while you prepare the rest of your meal.  Less than 10 minutes and you have your veggies done.
I'll often use frozen veggies in slow cooker recipes (added towards the end so they don't go too soggy) or in stir fry meals if I"m in a hurry and really don't have that extra 5-10 minutes to chop fresh ones.
Look for the brands and varieties that have a good mix of fibrous veggies and NO SAUCE.  I'll often mix them up, so half  bag of a mixed variety and a full bag of frozen cauliflower and broccoli for instance.
4.  Make recipes such as Egg BreakFast Muffins
I have a great recipe for BreakFast Muffins that you can find HERE
Or here's another one.  Make these in batches and you have breakfast, lunch or snacks ready.
Egg and Veggie Muffins
4 cups of grated or very finely chopped veggies.  Carrots, capsicum, onion, broccoli, asparagus are all good, but use your favourites
10 large eggs
1 bunch of finely chopped fresh chives or spring onions
Salt and pepper to taste
Preheat your oven to 180C and grease your muffin trays really well, or use silicon trays.
Mix all the ingredients together in a large bowl and spoon into your greased muffin tins.
Cook for about 15-18 minutes checking regularly that they are cooked through, but not burnt.
Take them out and let them cool in the trays.
The recipe makes about 6 serves.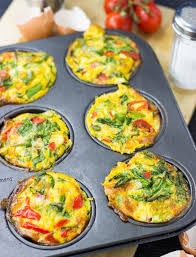 5. Garlic and Lemon Chicken and Veggie Packs
On a Sunday (or any other day that suits you) cook up some meals so you have all your lunches (or snacks ready in advance)
You can do the whole lot in your oven, so saving dishes, time and energy.
Grab your selection of veggies.  Broccoli, cauliflower, carrots, brussel sprouts, green beans and capsicum are great.
Chop them into pieces according to how quickly they are going to cook.  Beans, capsicum and quick to cook veggies should be cut bigger.  Place them on lined baking trays in single layers. Drizzle with a little melted coconut oil or olive oil and sprinkle with your favourite herbs or spices.  I love Moroccan Spice mix for this.
In the meantime, chop up chicken thighs (about 120g per serve-twice that for men) into large pieces.  Combine them with a mix of lemon juice, garlic, melted coconut oil and fresh chopped rosemary.
Place the chicken on a lined baking tray, and place into a preheated 190C oven.  After about 5 minutes, pop your trays of veggies in as well.
Cook for about 15-20 minutes longer till chicken is cooked through.
Place into individual plastic containers and keep in the fridge ready for grabbing and go.
6.  Make batches of soup
This is one of my best 'be organised, do-ahead' tips.  You've most likely read this one before.
Make a batch or two of soup on the weekend or on a week night when you do have time to cook and use it for a family meal the next day or for lunches for a few days.
 This blog post has some soup recipes you can download and use that are complete meals, contain both your protein and your carb content.  They are also easy and everyone in your family will love them
Good luck with your meal and snack preparation.  Make sure you fully read this post and the ones I"ve linked to and choose the options that are going to work best for you.
Make sure you share this post on Facebook with your family and friends if you found it useful-thank you