I wrote recently about how most people think that I eat like a saint, that I must always feel like training and that I remember to drink enough water, take my supplements and never give in to eating junk food.
This could not be further from the truth.  I eat chocolate a few times a week on average (although one block doesn't go that far between 7 of us) and I treat myself to coffee and cake with Caitlin or my mum or indulge in a homemade dessert if any of us can be bothered making one every few weeks.
But mostly, my 'average' days are what you would probably describe as 'pretty good'.  That, and the fact that I am really fit, allows me to have those treats without feeling bad about them or having to punish myself by skipping meals or training to 'burn off the calories".  Both tactics that don't work anyway by the way.
So what does a day look like?  Mostly when I'm home (I work from home for those that don't know) my days are fairly similar.  On weekends they almost the same, except, I'll pack my lunch and/or snacks because I'm mostly out all day at sporting venues.  And we know that canteens are generally the absolute worst places to find anything much that actually resembles whole or real food.
My Breakfast
Most days I'll have eggs and veggies.  Some days I feel like plain eggs, so I'll either cook the veggies on the side (such as mushrooms and tomatoes) or I'll have a piece of fruit with my fried eggs.
A breakfast that is super easy to have ready-made are breakfast muffins.  While I don't usually eat these for breakfast (preferring to have them at lunchtime) my kids eat these or my left-overs quiche during the week before school.  You can find recipes here
This is my usual favourite breakfast; eggs with spinach and zucchini. At times I will add herbs or spices, but right now, I'm loving it without.  Often if I'm really rushed, I'll just scramble the whole lot together in the pan to save cooking time.
Lunch
Lunch for me often consists of left over from tea the evening before.  It could be left-over soup or some a slow-cooker dish, both always made from scratch.  Or it could be left over chicken and veggies which is what I had today.
In the summer I prefer to make  a fresh salad and always make sure that I have some left over (or specially prepared in bulk) chicken, fish or other meat to go with it.  The salad below is one I whipped up in a few minutes and enjoyed outside.    The key is to make sure you have fresh salad ingredients in your fridge at all times.
Snacking
Often I will just grab a piece of fruit or a carrot (no need to peel or chop) and a handful of nuts.  Because I make sure I eat plenty of real-food protein in my main meals, I do not need to worry about including it in every snack.  I do try to avoid eating fruit on its own though, unless I'm just about to or have just finished training.  This helps to keep my blood sugar more even and prevent sharp drops that can result in cravings.
My absolute favourite snack is the FitterFaster Muesli or greek yoghurt, berries and almonds or walnuts.  The Muesli is pretty much the same but with the addition of a quality protein supplement – chocolate being my favourite.  How good does this look, packed ready to eat at the football while watching my kids play?
If I"m at home it looks a little less 'messy'.  Plating up your food properly not only makes it taste better, but gives you more satisfaction and enjoyment from eating.  Try it, it really makes a difference.
Tea
Our family all eat the same thing, although serving sizes vary a lot.
We'll always have a large salad or vegetables with whatever we have.  Some of our favourite dishes are FitterFaster Recipe items such as Caramelised or Coconut Chicken, Butter Chicken or Lamb, Pumpkin and Lamb/Chicken Stir Fry or Sri Lankan Coconut Chicken.
The kids also love wraps and I serve up loads of salad ingredients which we all pile in.  A sauce of greek yoghurt and spices finishes these off nicely.
Here are a few pictures of typical evening meals at our place.  Remember that I almost always make left-overs that I can have for lunches or even another evening meal.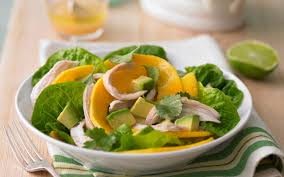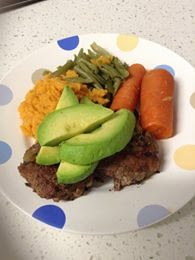 The key take-aways (pardon the pun) here are not the actual recipes themselves, but how I eat real, fresh food every day.  I cook from scratch almost all days, but still have treats without feeling guilty.  I also do not spend hours in the kitchen.
We usually have take away up to once per week where I will choose a chicken salad from My Pizza and Pasta or for a treat I'll have a Lamb Souvlaki from the fish and chip shop.
It's not about giving up everything that you love, but about making better choices every day.  You will actually find that you'll start to crave healthier food when you eat it regularly.  You really can retrain your taste buds easily.
All clients at Fitterfaster receive a full 300plus recipe book full of my own recipes tried and tested in a real family and made from healthy ingredients. I also do full nutrition plans for all clients if they require them.
From time to time I run nutrition challenges online.  You may like to take part in one and learn exactly how to plan meals and snacks and put together a full nutrition plan.  Subscribe to my newsletter list to keep updated on when I hold my next one.  You can subscribe by popping you in your details below:
Alternatively, check out my totally free fitness program; Get Fit Maryborough which also includes recipes, workouts and nutrition tips. You can find out more about that here:  Get Fit Maryborough