There are lots of times when you just don't have time to prepare a meal or snack at the time you need to eat it.  Heck, it happens most days to most of us; hectic mornings, no break at work, busy evening, you're out and about, you planned to cook but something came up, packed lunches and packed snacks required are just some
Some of the most common reasons I hear from people not eating a healthy meal or snack at any given time are; I wasn't organised, I was out and nothing was available, I didn't have time to cook.
The following are some ideas for simple meals and snacks that are FitterFaster 'compliant'.  For exact quantities, check the FitterFaster Food Charts and/or your individual menu plan
NO COOKING REQUIRED –  Can be prepared ahead, even the night before and kept in containers. Portable and easy to carry and eat anywhere:
Greek yoghurt, fresh or frozen berries and almonds
Low Fat cottage cheese, fresh or frozen berries and walnuts
Greek yoghurt with garlic mixed in and veggie sticks.  Add a fat serve if required in that meal in the form of 1/3-1/2 avocado mixed in.
Low Fat Cottage Cheese, Moroccan spice mix and veggies sticks to dip.  Add in fats if required in the form of walnuts mixed in or even a scoop of the FitterFaster Seed Mix – see recipe book
For the above, sub in any tinned fruit (straight fruit, no additives, juices, sugars etc) and/or your favourite nuts
PRE COOKING REQUIRED –  Serving sizes generally refer to '1 protein serve' as per the FitterFaster Food Charts.  Low energy carbs do not need to be measured and if hte recipe contains High Energy Carbs and/or Fats, the serving size of those is also noted.
BREAKFAST (OR ANY TIME) MUFFINS
2 muffins = 1 protein serve
Add fats or high energy carbs if needed in your meal as per your individual FitterFaster Nutrition Program
6 eggs
4 slices of short cut bacon diced
1 finely chopped onion
Approx 1 cup (or bit less) of chopped capsicum
Add your favourite herbs or spices, or not if you prefer
Mix everything together and season lightly with fresh black pepper.
Place into 6 large, greased muffin tins and cook for approx 15 mins at 180degrees.
Remove from the oven and let them cool slightly before removing them from the tins.
These are yummy warm or cold and are so easy to pack as a lunch, snack or to have for breakfast when you don't have time to cook eggs in the morning.
Experiment with your own flavourings and veggie additives.

FISH CAKES
These are also very portable.  Make a yum breakfast, lunch, snack or tea on the run.
Makes 10-12 fish cakes. 1 fish cake = 1 protein serve.
Also contains healthy fats, so allow for that in your day's plan
2 x 425g tins of salmon (or try tuna)
3 eggs
1 large sweet potato that you've chopped, steamed and cooled
juice from one large lemon (or 2 if you love it)
1/2 cup almond meal
1 med onion chopped finely
large handful of parsley and/or chives chopped finely
2 tsp of cumin and/or paprika combine (2 spoons in total)  Smoked paprika makes a nice change
Pepper to taste
Mash the cooled sweet potato.
Add everything else and mix well.  Its best to do this with your hands.  I use rubber gloves and wash them while I'm still wearing them.
Form into 10-12 patties and place on a baking tray lined with baking paper.  Pop them in the fridge for 30 minutes or more.  This will help them stick together when cooking
You can either fry these in a little coconut oil, or bake them in the oven straight on the tray.  If frying, do them in a couple of batches to keep your fry pan nice and hot.
Eat hot or cold.
If taking to work, simply make a quick salad and add 2 fish cakes per serve.  Experiment with the spices.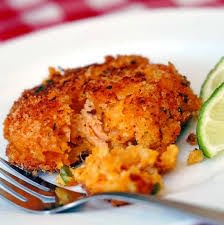 PANCAKES
Yep, pancakes are portable.  I have a version that I make the night before basketball tournaments and take with me to snack on at games.  Add a piece of fruit and I'm set.  They contain high energy carbs, but these ones are more user friendly for any time of day.
1/2 of this entire recipe = 1 serve
Add optional extra low energy carbs.
Fats are already included in the form of the extra coconut oil but you could chuck in a few walnuts before cooking if you liked.
When eating at  home, you could add a scoop of greek yoghurt and some fresh berries on top!!
4 eggs
2 tbsp coconut flour
2 tbls coconut oil melted
1/2 – 1 banana (I know this is high energy, but its only 1/4-1/2 banana per serve)
1 1/2 tsp cinnamon (heck, I usually add a bit extra, I love cinnamon)
1/4 tsp nutmeg
Approx 3.4 cup of mashed pumpkin or sweet potato ( I do this quickly in the microwave)
MIx everything together well.  Let sit for 10 minutes or so  before cooking
Cook over a medium heat in coconut oil in batches.  the size is up to you.
Just remember that 1/2 of this whole batch is one serve.
Because turning them can be a bit difficult (they're heavier than normal pancakes) dont make them too big.  Make sure they're cooked properly on one side before flipping.  A minute on the 2nd side is usually enough.
Don't overcook as I find that the spices burn quite easily and it ruins the taste
Pack these for a total 'on the go' snack or meal.  Contains everything you need including fats
SOUPS
Soups are a fantastic 'prepare ahead' food that are easy to take to work and/or quickly reheat any time of day.  Add a protein source to most soups and healthy ones are usually veggies based.  Check the FitterFaster Recipe Book for lots of quick, easy and deliciously healthy soups.
Check out this past post on being organised ahead of time  for some recipes and other ideas.